National
Trending
I'll Be Speaker Again – Kadaga Keeping an Eagle Eye on the Speaker of Parliament Position
"Don't worry about the mechanics. Just know that I will be Speaker,"
By Innocent Vuga
The Kamuli Woman Member of Parliament and Speaker of Parliament, Rebecca Kadaga has said she is aiming at maintaining her position as the head of Legislative Arm of Government come June this year.
Kadaga, who has steered the legislature for two terms, made the remarks today – Saturday during the popular political show, Capital Gang on Capital FM.
Asked by the show host if she intends to remain in her position in the 11th Parliament, Kadaga, the recent receiver of the Uganda Law Society's Rule of Law Award, said in affirmative that she is ready to continue as Speaker.
"I will be Speaker in June," said Kadaga.
The stolid Speaker when asked how she will recollect more party support said that there is nothing that will obstruct her process the position of the Speaker.
"Don't worry about the mechanics. Just know that I will be Speaker,"
Her deputy, Jacob Oulanyah is said to be among those yearning for the Speakership position. It is said that the environment at Parliament is not exactly friendly between Speaker Kadaga and her Deputy Oulanyah as the latter has his eyes firmly set on the boss' position.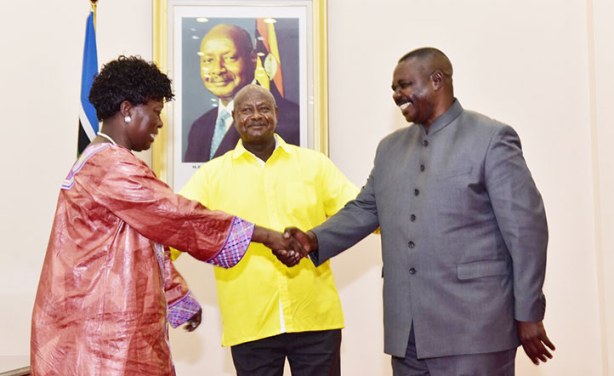 Speaker Kadaga's purposeful leadership that is characterised by advocacy for the rule of law and human rights is a shining example to young leaders.
In December 2020, The Uganda Law Society (ULS) recognised her for her astounding achievements.
"Dear Rt. Hon. Rebecca Alitwala Kadaga, in recognition to your contribution towards the fight for the Rule of Law, respect and enforcement of human rights, for your partnership with the Uganda Law Society and for your good will towards the people of Republic of Uganda, we thank you," said the ULS president, Ms. Pheona Wall.
Kadaga was also the first woman to establish a law firm in Uganda. She is among the pioneers of the Uganda Association of Women Lawyers (FIDA). During her tenure as FIDA President from 1986 to 1989, the first legal aid clinic in Uganda to support the ordinary people and the unprivileged was created.